This article is part of our series Battle of the Brands, in which we compare category-leading products to their counterparts to determine which are actually worth your money.
Modern virtual reality headsets may be best known for gaming and entertainment, but they're also great for fitness. VR fitness apps are great for those who lack a home gym setup, hate overcrowded gyms or can't afford a personal trainer. Then there are the physical benefits. According to a national study by the National Library of Medicine, it was found that VR exercise has the potential to have a positive impact on the user's physiological, psychological and rehabilitative outcomes compared to traditional exercise.
With the Meta Quest 2 being the hottest VR headset out in the wild, the platform's two most popular competing fitness-focused apps are Supernatural and FitXR. Most recently, Meta purchased Supernatural developer Within, which ensures that the fitness app released in 2020 stays exclusive to the headset. Meanwhile, FitXR began life as an evolved version of 2017's BoxVR when released in 2019.
Since their respective releases, both apps have gone through some significant changes and upgrades to make working out in VR better than ever. Everything from mobile app integration to workout styles ensure that there's always something to do in your VR workout journey.
To help you find the best VR fitness app for your needs, here are our thoughts on Supernatural and FitXR after spending around a year with both.
Supernatural aims to make working out as accessible as possible, while FitXR is more intense when it comes to workout gameplay. The latter features 10 trainers and five workout types that also offer online multiplayer. Meanwhile, Supernatural has four workout types and five trainers. Two of those workouts offer score-like stats as well. Between the two, FitXR feels more gamified.
Supernatural and FitXR both share boxing workouts with some small differences between them. For example, some boxing routines can have leg lifts and knee strikes added to them on Supernatural. When it comes to FitXR, there aren't any breaks between songs and there are motions like low punches. When it comes to more music-led rhythm exercises, Supernatural has Flow, which resembles Beat Saber, while FitXR has a Dance exercise that resembles Ubisoft's Just Dance series.
The only other workouts available for Supernatural include Meditation and Stretch. Meditation allows users to work on their breathing and gain more body awareness in a calming environment. Stretching is pretty much similar to the warm-up and cool-down sessions with a bit of yoga added in for good measure. It's definitely a great way to get some exercise when you're on an off day.
By far, FitXR offers the most options in terms of workouts. All of the workout types are available in various intensity, time duration and soundtrack too. There's Sculpt that is more of a low-impact workout inspired by Pilates and barre. Then there's combat that is a different take on boxing. In this workout, users hit icons like boxing but use moves inspired by different fighting styles, including Karate and Brazilian Jiu-Jitsu. Rounding out FitXR's available workouts is HIIT (high-intensity interval training), which can be the most intense out of the other exercises available. Not only does it test endurance but reaction time as well.
TL;DR: FitXR has a larger amount of workout types available, which should keep users engaged a bit more. Be mindful that Supernatural's Boxing and dancing-inspired Flow are better experiences, though.
Both Supernatural and FitXR are subscription-based fitness apps with the option of paying a monthly or yearly price. Supernatural is the most expensive at $19 per month. Users who want to pay an annual membership can get a rate of $180 per year, which saves you some money in the long run.
On the flipside, FitXR is significantly cheaper. The monthly subscription fee is $10 per month, with a discounted annual cost of $84. If you used FitXR before it made the switch to being subscription-based in 2021, you're considered a legacy user. This means that individuals who bought FitXR as a stand-alone product get all of the pre-subscription downloadable content packs if they decide to dive back in.
The value of Supernatural and FitXR's subscription fees is relative to your own workout needs. For some, the difference between the two could be comparable to gym memberships at Planet Fitness or Equinox. When it comes to better overall value for fitness, FitXR takes the cake with the amount available for just 10 bucks per month. However, there are other reasons why individuals may not mind spending the $20 monthly subscription for Supernatural, which we'll discuss below.
TL;DR: Users looking for a no-frills workout that's only $10 per month may find FitXR the most attractive. The $20 Supernatural subscription cost gets users a stylish fitness app that provides workouts with music significantly representing various genres.
Both fitness apps have different approaches to the user experience. Take the home screens, for example. Supernatural opens with a stylized title screen that has users at a mountaintop for its home screen. Meanwhile, FitXR's places users in a minimalistic personal gym. Out of the gate, the differences become clear.
Before users get to the homescreen, FitXR allows users to select individual profiles per account, which is great for a home with multiple users. Supernatural allows multiple accounts, but the process is a bit complicated. It requires the mobile app and email of whoever wants to set up their own account.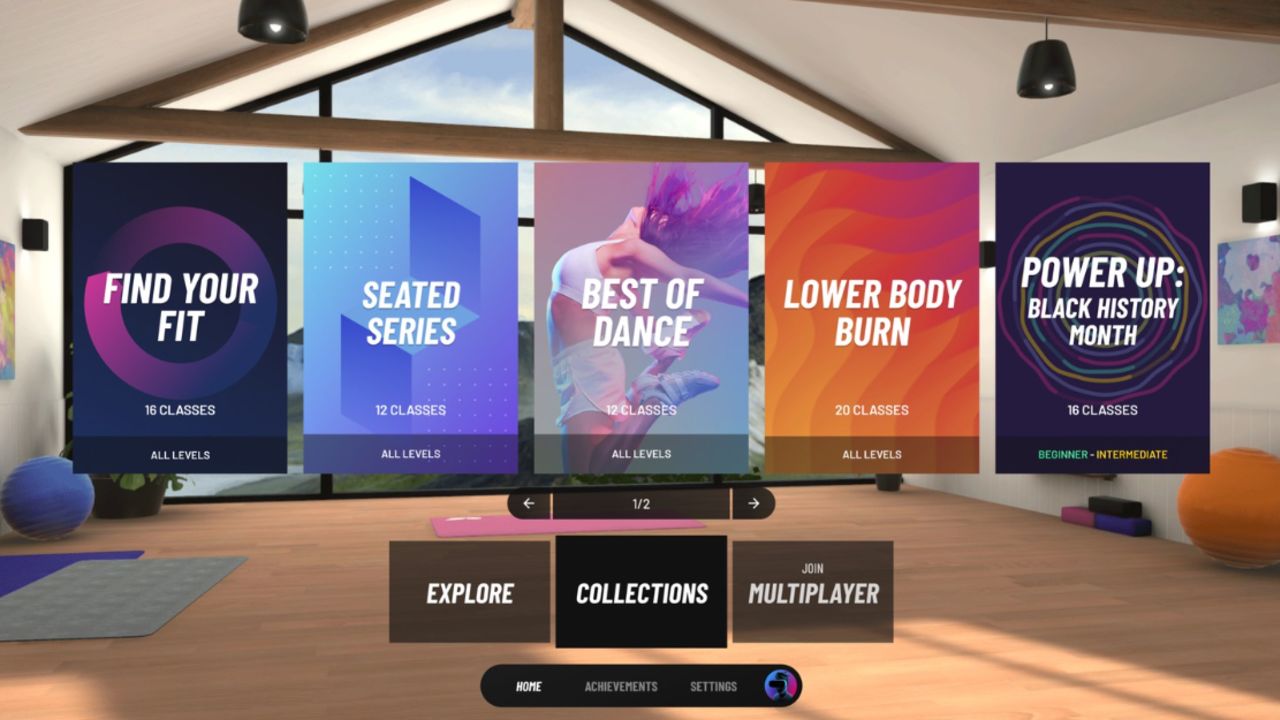 From there, Supernatural is the clear winner over FitXR when it comes to user experience. Finding the right exercise session is easier, as they can be broken down by intensity level, type of workout, soundtrack and time duration. FitXR can do that too, but the main difference is that Supernatural provides a playlist for all of the workouts. Users can see each artist and song that will play during a workout session. Until users get more familiar with the specific workouts of FitXR, it becomes a guessing game, though some of the descriptions may give light info on artists featured. Before and after workouts, FitXR does give users the ability to do warm-up and cool-down exercises, while Supernatural makes them mandatory.
When it comes to the core workouts themselves, both have different approaches as well. Supernatural uses live video for its coaches and scenery during exercises, while FitXR features full polygonal rendering.
TL;DR: Supernatural does a better job of visually presenting information. FitXR simply doesn't visually look as good in comparison and the menu feels a bit overwhelming.
Related: The best weight loss apps in 2023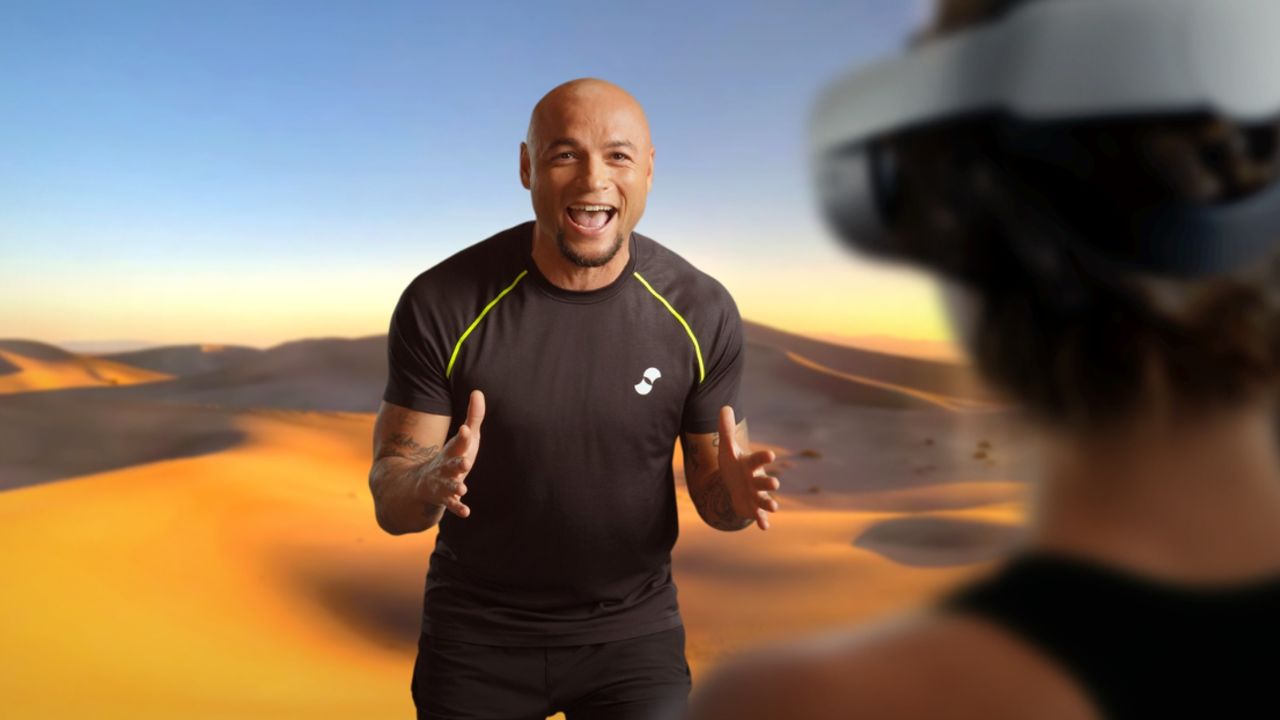 The two fitness apps have companion mobile apps available for iOS and Android, which let you do things like track workout progress, set weekly goals and manage your account. Both can be connected to various smartwatches that offer heart monitoring as well. Supernatural can directly connect to a heart rate monitor-equipped smartwatch for real-time tracking, while FitXR works through fitness app Strava. On the other side, FitXR has a more robust milestone system for tracking calories burned over time.
Some of the differences between the apps include Supernatural having a light social media component that allows users to share their scores after a session among others. There's a community-building aspect of Supernatural that extends beyond the app itself, including a lively Facebook group that is full of motivation. That community extends to the celebrity world, with specialized workouts featuring notables like comedian/actor Tiffany Haddish and "RuPaul's Drag Race" competitor Shea Couleé.
When it comes to the gamification aspect, FitXR workouts have you attempting to have the higher score amongst other users. There's something about playing alongside other individuals that pushes users a bit more due to sheer competition. It's not in real time and they're just recordings of other players' sessions. However, FitXR does have an online multiplayer component that lets you take part in a virtual workout class against real people in real time — something you won't find in Supernatural.
TL;DR: For individuals who care more about fitness, FitXR offers a bit more in keeping up with one's wellness journey. Supernatural doesn't do as good of a job, but the community aspect is pretty engaging.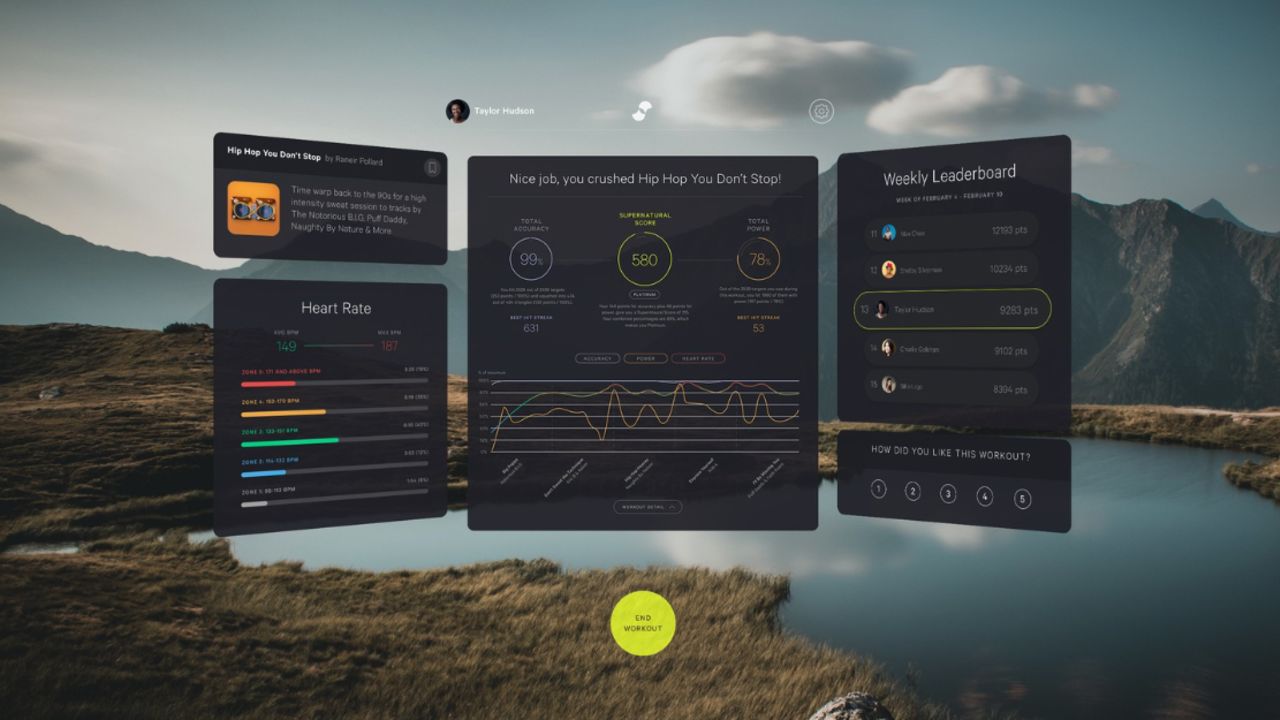 Music is key for setting the mood during workouts, and both take different approaches in doing so. FitXR caters more toward unknown indie artists and offers the ability to submit music on its site for use in the app. This is a slick way of providing artist discovery through VR fitness. When it comes to licensed music from bigger mainstream artists, the offerings are a bit slim. Some of the artists featured include DMX, Megan Thee Stallion, Lil Nas X and Pink. Most of the soundtrack revolves around hip-hop, rock pop and electronic. Users looking for pure workout vibes might walk away satisfied with what FitXR has to offer.
On the other hand, Supernatural has the most robust licensed music soundtrack available between the two, thanks in part to its partnership with Universal Music Group. Top artists in everything from hip-hop and rock to jazz and electronic music are well represented, including Kendrick Lamar, Dr. Dre, Ariana Grande, AC/DC, Louie Vega, Fats Domino, Blackpink and dozens more. There are even playlists representing popular international artists from various African, Pacific Asian and Latin countries, in addition to era-specific playlists. Supernatural recently added artist-specific playlists, allowing you to work out to all of the top tracks from artists like Kid Cudi, The Weeknd and Katy Perry in a single session. The amount of great music Supernatural has to offer is staggering.
Unfortunately, both lack the ability to create a custom playlist.
TL;DR: If popular artists from multiple eras, genres and countries are your thing, then Supernatural takes the crown without hesitation. However, if that's not important — or if you want to discover something new — then FitXR is totally fine.
Deciding which VR fitness app is right for you depends on your personal needs and priorities. Those who want a beautiful user interface, phenomenal soundtrack and community filled with inspirational everyday people looking to get healthier should keep Supernatural in mind — as long as that $20 monthly subscription fee is in your budget. Users looking for a no-frills workout that lets you compete with other players around the world (and at a cheaper 10 bucks per month) will get a lot out of FitXR.