<\/div><\/div>"],"filter":"nextExceptions":"img, blockquote, div","nextContainsExceptions":"img, blockquote, a.btn, a.o-button","renderIntial":true,"wordCount":350}">
Skis get all the glory when it comes to nordic equipment. They provide the kick and the glide and, hence, most of the joy. But in a winter endurance sport that is performed often in sub-optimal and occasionally sub-zero conditions, it's key to have durable boots that will keep your feet comfortable, clothing that will wick sweat, and sturdy poles that will propel you forward. Fortunately for us, long gone are the days of clunky, ill-fitting boots, feeble poles, and uncomfortable fabrics. When some of our testers started skiing they had to double up on socks, wear snowmobile boots, and strap into bindings that would fall off 20 minutes into the session. With today's beautiful, warm gear that makes skiing easier, more efficient, and a lot more fun, there's no excuse to skip learning this sport.
The Winners at a Glance
Fischer Carbonlite Skate Boot
Salomon S Max Carbon Classic Boot
Atomic Redster S9 Carbon Skate Boot
One Way Storm 2 GTX Poles
Patagonia Peak Mission Tights
Outdoor Research Deviator Hoody
Tifosi Rail XC Clarion Blue Fototec Sunglass
Amundsen 5Mila Pants
CEP Snowfall Compression sock
Skida Snow Tour Neck Gator with Alpine Headband
Wild Rye Evie Raglan Lite
RUX Waterproof Bag 25L
How We Test
Number of testers: 6
Number of products tested: 61
Number of kilometers skied: 870
Number of inches of snow over the winter in Duluth, Minnesota, the primary testing ground: 135.4
Northern Minnesota, where most of our testers are based, had a record-breaking snow year of more than 11 feet, which made for unique nordic conditions. On a few days the snow was so deep that our only option was to ski out the front door and down the middle of the street to Nordic trailheads where we found horizontal powder fields.
Our testing period lasted for seven weeks in March and April on snow that varied from cold, squeaky Styrofoam to spring corn to wet cement. We braved sub-zero temps, 35-mph winds, and sweat-inducing sunshine as the snow melted below our feet. With six testers, varying in ability from rank beginner to elite-level marathon racer, and ranging in age from 19 to 62, we made sure each item was tested by at least two people.
We tested on a wide range of trails—from punchy 5k loops on lit city trails after work to a 25k groomed, hilly wilderness loop. Our volunteer testers gamely skied as often as possible in as varied conditions as possible. Afterward, they filled out a form that included details on snow conditions and technology, and assessed boot and accessory performance, like whether the boot held the heel while skate skiing or whether sunglasses were able to better delineate the flat light of winter.
The result: We stayed out for long hours no matter what kind of weather Ma Nature threw our way.
Meet Our Lead Testers
Stephanie Pearson
Category manager Stephanie Pearson grew up in Duluth, Minnesota, nordic skiing out her backyard. She started at Outside as an intern in 1995 and has worked in various positions with the magazine, most recently as a contributing editor, for almost three decades. She's also a 2023 National Geographic Explorer.
Janine Sieja
Janine Sieja is a former Outside editor who learned to cross-country ski when she moved to Minnesota and has since finished two 50-kilometer American Birkebeiners, yet remains in awe of those with decades of Birkie finishes. She's also among an army of volunteers helping organize a FIS World Cup race to be held in Minneapolis in February 2024.
Jen Pearson
Jen Pearson is a physician and associate professor in the Department of Family Medicine and BioBehavioral Health at the University of Minnesota. She's raced the American Birkebeiner more than 20 times with multiple top 20 finishes.
Doug Hoffman
Doug Hoffman is an MD who specialized in musculoskeletal ultrasound. He has raced 15 to 25 Birkies, but his first love is soccer. His final collegiate soccer game as a defender for Duke University ended in an eight-overtime loss in the 1982 NCAA final.
Brian Hayden
Brian Hayden is the founder of the Duluth Devo Mountain Bike Program. He's also a former collegiate Nordic ski racer and ski wax technician for the Duluth East High School Nordic Ski Team. His skill and patience at the wax bench was essential for this ski test.
Kai Hoffman
Kai is a sophomore at the University of Wisconsin-Madison. A former racer on the Duluth East High School Nordic ski team, Kai has near textbook perfect classic skiing form, but prefers playing soccer and making Swedish pancakes.
The Reviews: The Best Nordic Boots and Accessories of 2023
Fischer Carbonlite Skate ($499)
Weight: 555 grams per boot (size 42)
Size Range: 36-49 (EU)
Already well-established as a comfortable, lightweight, performance-oriented boot, the most noticeable update in the new Carbonlite Skate is a new a carbon-fused cuff and shell that reduced the weight by 50 grams per pair. This helped our testers feel less miserable on the many climbs along northern Minnesota's 25K Picnic Loop. The brand also added a better-sealing zipper to the already-dry boot to improve warmth and better prevent snow from seeping in. Like most performance boots, there's little in the way of insulation, but the insole has an aluminum lower layer to improve warmth, and the inner boot has an outer mesh layer that adds structure and traps heat. A small, but key update is a Velcro, tool-free adjustment to the position of the ankle strap so that the cuff has a more custom fit. Some women testers with narrow feet thought the toe box on the unisex boot was a little big, but others found it perfect. "I liked the feel of this boot," reported tester Jen Pearson. "It didn't feel quite as snug in the forefoot as some and didn't have any rub spots. It was comfortable throughout. The easy-to-adjust Velcro-strap added ankle support." Less noticeable in terms of fit and performance, but imperative if we all want to keep skiing on natural snow, is that the Carbonlite Skate was redesigned to be PVC- (polyvinyl chloride) free.
Bottom Line: This endurance-level boot will keep feet happy throughout any full-length ski marathon.
Salomon S/Max Carbon Classic Boot ($300)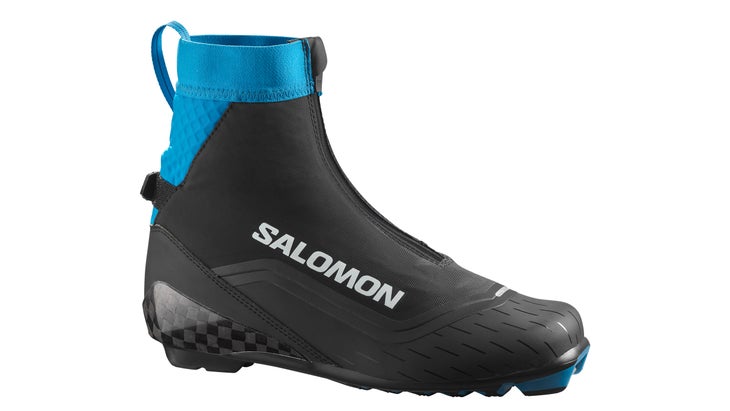 Weight: 720 grams per pair (size 8)
Size Range: 3.5-13 (UK)
It's rare for testers to find common ground during a boot test. But the S/Max Carbon Classic, which is also 100 percent PVC-free, was almost universally loved for its warmth, decently light weight, and comfort. The medium-volume, soft-flexing race boot is built on a lightweight carbon chassis that adds strength and support, allowing the foot to explode forward and drive the ski. The 78 percent-recycled Thinsulate insulation kept everyone's feet warm down to single-digit testing temperatures. Smaller features that testers appreciated are the adjustable heel strap to eliminate slippage and the fleece insole that kept us comfortable well into double-digit kilometers. One veteran skier was concerned that after long distances, the slightly narrow forefoot might bring pain to those who struggle with arthritis in their toe joints (but no testers noted any discomfort during our tests).
Bottom Line: Fairly priced, fits like a glove, and is sustainable to boot (pun intended).
Atomic Redster S9 Carbon Skate Boot ($875)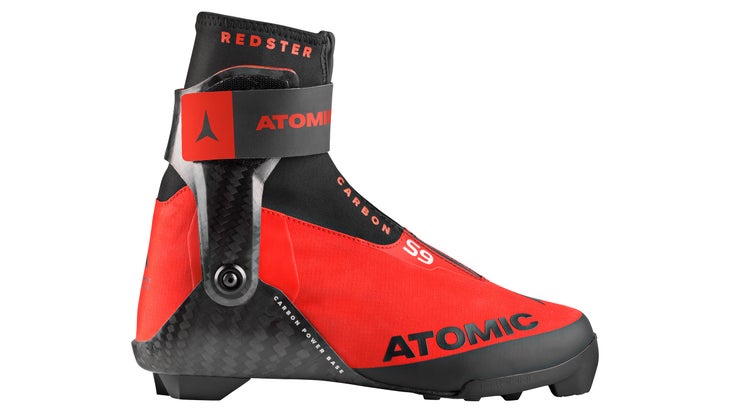 Weight: 460 grams per boot (size 8)
Size Range: 4-12 (UK)
The lightest skating boot Atomic has ever made will be hard to miss on the starting line with its fire-engine red upper. Handcrafted in Austria, this boot features a one-piece carbon base that completely molds around the heel and sole. The result is maximum stiffness and stability that translates to explosive acceleration.  The boot's upper, on the other hand, feels almost like a sock made from a stretchy, breathable, water-repellant membrane that can be tightly secured by inner lacing and an outer zipper. A minimalist, full-carbon cuff rising from the heel counter is secured with a thick Velcro strap and stabilizes the ankle. Our testers said the boot felt like a carbon slipper and loved how its stiff sole allowed them to efficiently execute proper skating technique. The relatively simple lacing system secured the boot to our feet, and the carbon sole and cuff kept us correctly positioned over the ski. The boot felt a little wide and flat for one tester's high-arched narrow foot, but other testers did not note this.
Bottom Line: The World-Cup-level Redster will pack your V-1 and V-2's with power.
Accessories
One Way Storm 2 GTX Poles (price $179)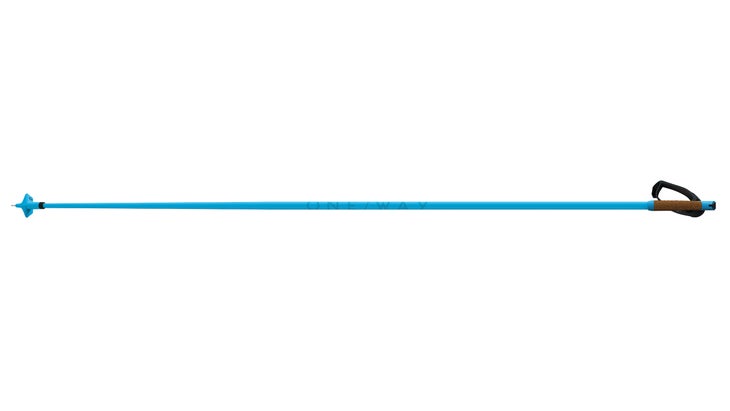 The 100 percent carbon shaft of the Storm 2 GTX is strong enough to withstand freakish plants that would normally end in snapping, light enough (at 75 grams per meter) to prevent fatigue after repetitive motion, and stiff enough to propel us forward. The new Velcro-closure grip is strong and secure, but, because it attaches to the pole via a magnetic ball socket that easily clicks in and out, last-minute adjustments can be made without having to painstakingly wiggle the hand out. One handy feature: The top of the pole shaft has tape marks showing where to cut for a desired length, taking the guesswork out of this process, whether you use for skating or classic.
Bottom Line: The One Way Storm 2 got a thumbs up from all testers for its strength, weight, performance, and especially its easy-off grip.
Patagonia Peak Mission Tights ($129)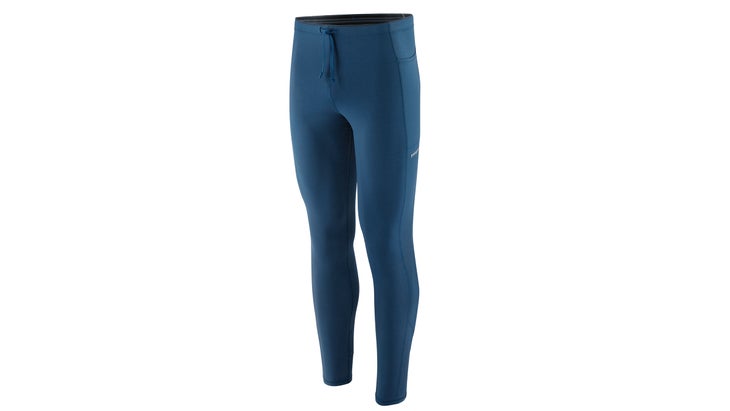 This newly redesigned running tight is made from recycled polyester, nylon, and spandex, offering the ideal weight-to-warmth ratio for nordic skiing. We found the fleecy brushed terry interior cozy enough for zero-degree days, but the tights were still breathable enough that we didn't sweat through them under ski pants and pliable enough to allow full range of motion. A flat, stretch waistband with a hidden drawcord keeps the tights in place; a new side slip-in pocket on either thigh securely holds an iPhone 13 Pro; and a rear pouch pocket at the waist holds snacks. Sizing: Men XS-XXL, Women's XS-XL
Bottom Line: A universal base layer that works just as well for nordic skiing as it does for winter running or snow biking
Outdoor Research Deviator Hoodie ($229)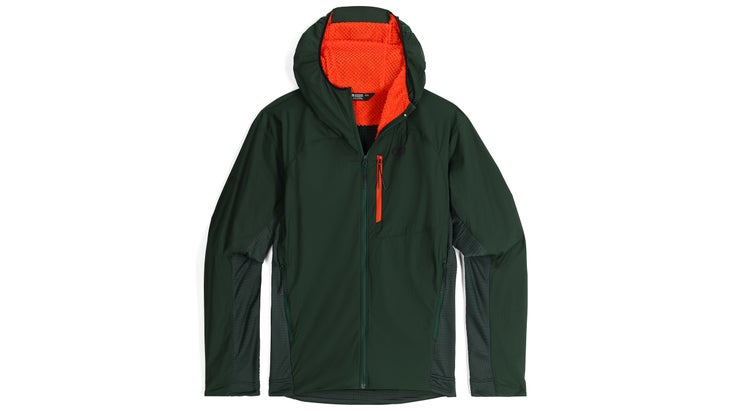 The Deviator's new insulation creates a lightweight matrix pattern by pairing a hollow-core polyester fabric in the center of eight-panels with loftier polyester surrounding each. It's fuzzy, warm, and hyper-breathable, and half the weight of comparable insulations like solid polyester. The snug, insulated zip-up hood offered extra protection on windy days, and the added layer of 20-denier softshell fabric on the front, shoulders and sleeves protected us from the wind. The zippered chest pocket keeps a phone close by. Sizing: Men S-XXXL, Women's XS-XXL
Bottom Line: The only jacket you'll need for high-aerobic activities on 15-degree and warmer winter days
Tifosi Rail XC Clarion Blue Fototec Sunglass ($80)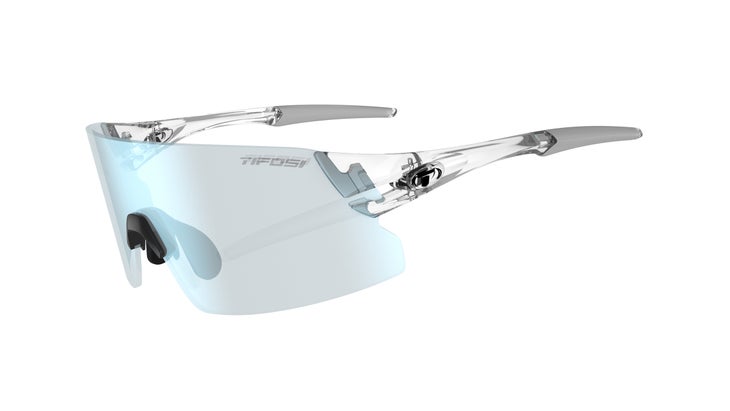 Flat light can be fatal while nordic skiing, which is why self-adjusting lenses are crucial in an environment where everything is a shade of white or gray. The new Rail XC's polycarbonate Clarion Blue Fototec lens starts out nearly clear and adjusts to a smoke tint/blue mirror in sunny conditions (also available in Clarion Red). Our testers found this lens to be the most light-defining of the ten pairs tested, despite the fact that these sunnies' price tag was less than half of some others. Some testers noted that the frame's relative rigidity, compared to other glasses, caused pressure points in unwanted places such as the forehead, but others had no gripes about fit.
Bottom Line: A lens that spans a wide array of light conditions and won't break the bank
Amundsen 5Mila Pants ($399)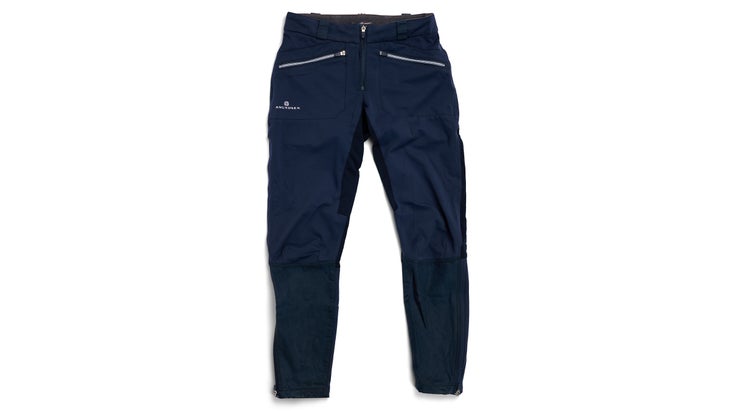 This high-intensity training pant designed in Norway for colder weather is chic and divinely comfortable, thanks to its luxurious Italian four-way stretch softshell fabric. The brand added an even more breathable nylon fabric in key sweat-collecting areas like the lower back, inner thighs, and back of the legs. A 15-inch-long pant-leg zipper makes it easy to take socks and boots on and off, two deep front zipper pockets secure phones and other items; and a two-inch wide fleece-lined waistband pulls it all together. Sizing: XS-XL (women's); S-XXL (men's)
Bottom Line: A splurge at the outset, but we're betting these classic pants will last forever
CEP Snowfall Ski Compression Sock ($50)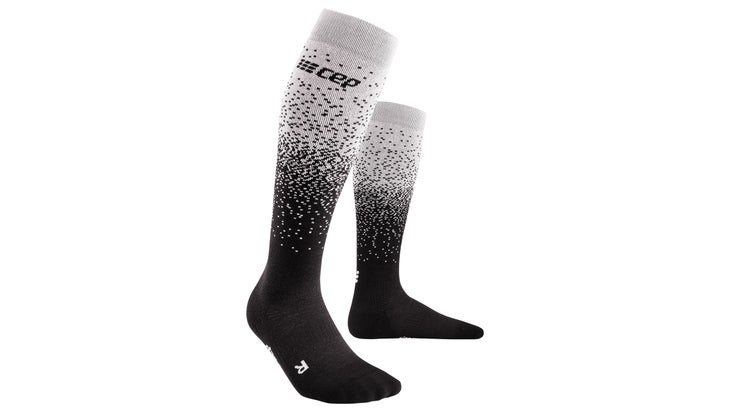 A decade ago one tester realized the benefits of skiing in a compression socks—more support while skiing, less recovery time afterward—and now she refuses to ski in anything else. They swaddle the foot, ankle, and calf with support and their generous length adds an extra layer of insulation. Made in Germany, CEP's new knee-high compression socks are knit from 75 percent polyamide, 13 percent merino wool, and 12 percent spandex. They stay in place with zero rubbing or abrasion and keep feet comfortably cool and dry. Sizing: men's 6.5-13.5; women's 4.5-11
Bottom Line: These socks are an investment in skiing comfort and longevity
Skida Snow Tour Neck Gaiter ($24) with Alpine Headband ($24)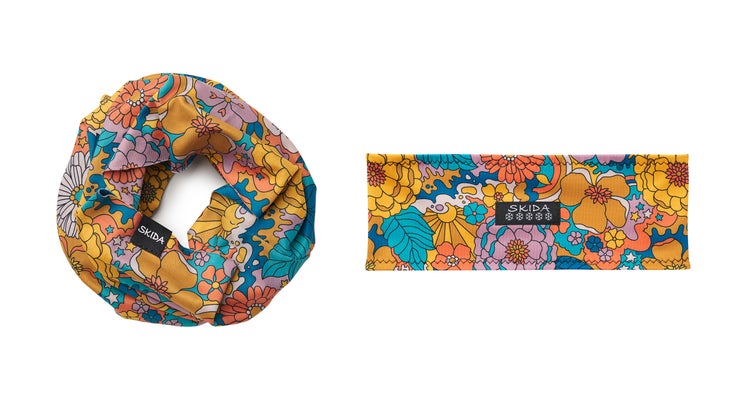 Snow Tour weight: 2.5 oz
Alpine Headband weight: 1 oz
Snow Tour Gaiter Alpine Headband
Yet another casualty of Minnesota's frigid winter: thinner hats, headbands, and neck gators specifically designed for nordic skiing. They just didn't keep our testers warm enough no matter how hard they were pushing. What did, however, was Skida's Snow Tour neck gaiter, made from soft, lightweight brushed fleece that breathes well (even when snot is frozen to it), and their Alpine headband, made from a synthetic face fabric with a Polartec microfleece lining that's the perfect width to keep ears warm. Plus, we loved Skida's fun patterns and colors.
Bottom Line: Warmth and colorful, bright patterns make getting outside easier on the coldest winter days.
Wild Rye Evie Raglan Lite ($99)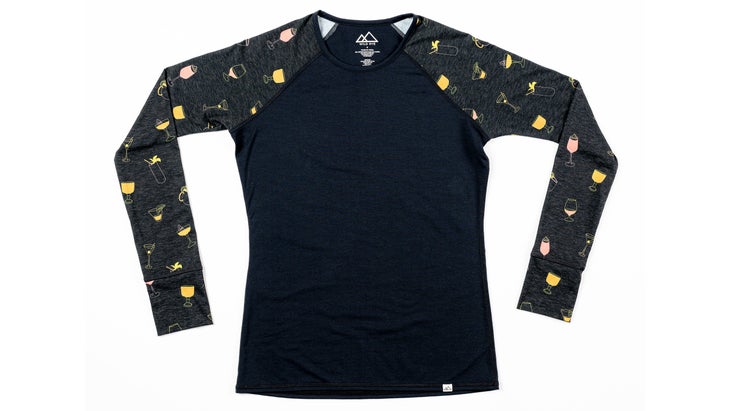 This 160-gram, highly breathable, poly-merino-spandex fabric crewneck is an ideal baselayer for nordic skiing because it is so lightweight and pliable, making it perfect for a lot of movement. On days in the 30-degree range, it offered enough next-to-skin warmth to wear with just a neck-warmer and a jacket like the OR Deviator Hoody. But on days when the temps plunged into the single digits, it was great when paired with an extra merino baselayer. The wine-and-martini-glass motif on the sleeves added an extra kick on days when it was tough to kit up and get outside. Sizing: Women's 0-18
Bottom Line: A lightweight piece that works well as the only baselayer you'll need through a moderate winter
RUX Waterproof Bag 25L ($150)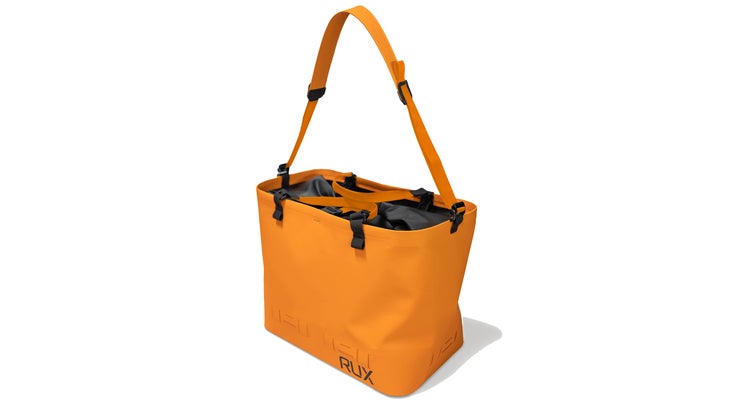 Weight: 1.2 lb
Pro tip: One of our testers always stashes a waterproof bag in the car to keep fresh clothes dry and away from dog hair, muddy boots, and wet snow. Afterward, the dry clothes go on and the sweaty, wet clothes get piled into the waterproof bag to be hauled straight to the washer. The 840-Denier, TPU-coated nylon, RUX Waterproof Bag (25L), nicely supports this system because it's structured enough on the sides so that it packs like a box, staying upright in the car so it's easy to quickly comb through its contents. Its widemouthed roll-top opening makes packing simple and, secured by a compression strap, keeps valuables hidden inside.
Bottom Line: Not a necessity, but it makes life a lot easier in those shivery transition moments from trail to car
How To Buy
For first time buyers, we always recommend going to a shop devoted to nordic skiing or one that has a devoted nordic sales person. It really takes a professional to help you fit boots and poles and determine what kind of clothing you might need depending on the kind of skiing you'll be doing.
Boots
Like any footwear required for an endurance sport, comfort comes first. No matter how well a stiff carbon boot can transfer power to the skis and propel you forward, it's not much fun if you're in pain. That said, like an alpine boot, your feet need to fit snug or else you lose control of the ski. If your foot is swimming around in the toe box, for example, it's tough to efficiently push off and execute clean skating technique. Or if your heel slips in the back, you may end up with a big red blister at the end of the day. Almost always, classic boots are more comfortable than skate boots because they don't require as much lateral stiffness to power the ski.
World Cup-level skate boots, like the Atomic above, have a full-carbon outsole. That makes the boot much stiffer, but also much more efficient in transferring power to the ski, so your body and ski work together in tandem. Carbon technology, however, also substantially increases the price of the boot. While there's nothing more fun than executing powerful ski technique, a hybrid sole that combines carbon with plastic will probably work just fine for most skiers.
A well-insulated boot adds comfort and keeps your feet warmer. But if you tend to ski in warmer climates and don't need a lot of insulation, there is also the option, as in cycling, to add a boot cover for the rare cold day.
Poles
It's incredible how complicated a seemingly simple piece of gear like a pole can be. When buying poles, you should consider four factors: swing weight, weight, stiffness, and strength. The latter three are self-explanatory. "Swing weight" refers to the pendulum motion of each pole stroke. Weight near the tip of the pole requires more energy from the skier than weight near the top of the pole. Considering the average ski racer makes about 30-45 pole plants per minute, swing weight, if poorly distributed, can fatigue arms over time. Most skiers, however, are not going to notice the swing weight while buying poles, and will likely need to rely on a pole that provides the best weight-to-strength-to-stiffness ratio, which will almost always be a carbon pole.
The other important factor in a pole is the grip and strap. Grip is essential because you need to be able to comfortably hold your pole over a long period of time. An awkward grip can make for a long day on skis and ultimately lead to issues like arthritis. The material of the grip matters: Cork decreases vibration and resists moisture, while foam is soft. A lot of time and energy can be lost in both classic and skate skiing if you have a loose or sloppy strap. It's important that the strap fits securely so that you can grip the pole while planting, yet still allow enough range of motion to release the pole as you push off the ski and glide forward. But the more secure a pole is, the more difficult it can be to take it off to adjust a ski. That's why it's ideal to have system where the strap clicks on and off the pole without having to unstrap and yank out your mitt.
As for pole size, skating poles should be the height of your nose and classic poles should hit the top of your shoulder. Use the same pair for both techniques and you A) won't have as much fun and B) are asking for a shoulder injury.
Clothing
Nordic ski clothing sends shivers down our testers' spines because it never appears warm enough, especially in Minnesota. But Nordic skiing is one of the most sweat-inducing activities on the planet, so the less-is-more theory is important to consider. Baselayers, jackets, and pants need to wick sweat away, be warm enough for the coldest winter, and allow enough range of motion to effortlessly kick, glide, and plant poles. Layering is essential: a next-to-skin baselayer, plus a warmer piece of insulation on the coldest days, plus a thin wind and water-resistant outer layer to buffer a breeze and keep snow out. If you stop, you'll freeze. So the most important rule of thumb is to keep moving.
---
More 2024 Gear Guide Reviews
Back to the Winter Gear Guide